About the Book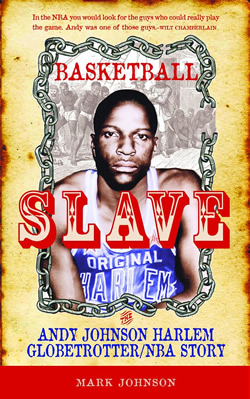 Basketball Slave: The Andy Johnson Harlem Globetrotter/NBA. Basketball Slave: The Andy Johnson Story is filled to the brim with extraordinary tales from behind the scenes of the early Original Harlem Globetrotters.  It is loaded with a wealth of historical information never disclosed regarding the slow, quota-based inception of African American athletes in the NBA. This book clarifies the role of the Original Harlem Globetrotters which made the NBA the multi-billion dollar organization it is today.
It is also a fascinating and inspirational story that weaves the heart-wrenching account of a young boy who became a man through the lessons of basketball. He grew up watching his family working in the cotton fields of Louisiana to playing basketball in the streets of Hollywood in his bare feet. His education was under-valued in high school.  He was considered a basketball star only. By the time a major university recruited him, his hopes for a decent education were lost, as well as the opportunity to receive a college degree. Special interest individuals and corporations saw this as an opportunity to put him in the "professional basketball auction block" where he had no ability to negotiate his contract, pay, or where he would play. These unfortunate events occurred three times in his professional career. However, Andy Johnson turned every devastating event into an opportunity by staying positive in the game of life.
So where did the idea for the book come from?
"My father and I shared a very close bond that not many have had with their parents. I always knew that my father played for the famous Harlem Globetrotters and spent years in the NBA, but that was all I knew. I had to find out how important my father was to the game of basketball and how he influenced others. It was for this reason I began tracing a lineage to some of the other players who played or heard my father. Reaching out to them, I would attend events where they were honored. The surprise for me was finding so many things I didn't know about them. My lack of knowledge bothered me because I have always been a sports fan, especially basketball, and here were some of the greatest players I knew nothing about. So I began researching the players of that era only to find that the history of these important men was absence from documented journals. They had to be fine players if they played in the NBA or Globetrotters during those early years of the formation of basketball. The quota system was in place which only allowed a few black players to enter the teams and those few were considered the exceptional athletes
.
My research continued on in the late 80's with the pension plan that was created by the NBA for players that played before 1965. When my father was initially denied his pension, I saw a sadness in his eyes that I had never seen before.  I knew at that point I had to do something. While fighting for the rights for his pension I traced his history back to his childhood. This is where I decided it was time to write about the Harlem Globetrotters and players that played in the NBA during the mid 50's. I began contacting them directly and they were more than willing to help me complete the book. I actually had to add about ten more pages due to the information that was given to me. They were so happy that someone was finally telling the story of what happened not only to my father but to many of them. Telling my father's story was telling their own story as well.
People ask if I played? Yes I did but not to the capacity of most of these players. My father had a true NBA frame in the mid 50's. Many of his opponents which include some of the 50 greatest NBA players would tell me that playing against my father was a problem for them. I recently met the great pioneer Earl Lloyd (the first African American to play in the NBA). I told him who I was and showed him a copy of the book that I wrote about my father. He looked at me and said "This was your Daddy". I said yes very proudly. He then looked at the cover of the book and said "I see you put a picture of him with his happy face". We laughed and then I asked him to rate Andy Johnson. He turned to me and said Your father was very tough player and simply the best!. I felt very honored that day.

Why is this book important to the young athlete?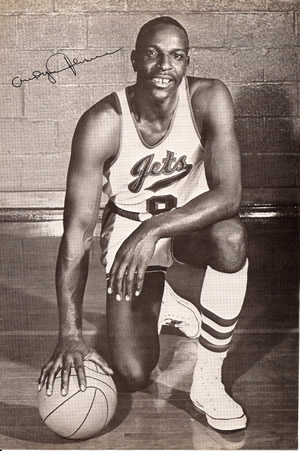 "It shows how important it is to get an education along with doing what you love to do and that is to strive to play sports on a professional level. The NCAA Committee on Academic Performance has declared the Connecticut basketball team banned from 2013 post-season play for poor academic progress from its players. This is very unfortunate due to the fact that they won the NCAA tournament in 2011. Many schools have recruited the best of the best. Many young players go on to have professional careers. But so many do not. What happens if you don't get a degree and get hurt? Or make a bad financial decision if your make that it to the LOTTERY and get that multimillion dollar contract. We always talk about the ones that made it. What happens to the one who don't? Every great basketball player who once played and their career is over is doing something else. So this book makes you think about a back up plan in life.
Here is another reason why this is an excellent book for old and young. There have been many books written about the Harlem Globetrotters and the NBA; however, this is the only book that tells it through the eyes of a pioneer who dealt with the social and racial issues of that time. It is an untold history of actual accounts. Does anybody know that the first African Americans that played in the NBA were really delegated to rebounding and playing defense? This practice took place from 1950-1960. The first African American players who were truly able to score for their teams were Wilt Chamberlain with his 100 points along with the great Elgin Baylor and Oscar Robinson. (Good thing they did not come along 10 year earlier). Can you imagine Labron or Kobe or even Dwayne Wade restricted from scoring? Can you imagine them just playing defense or rebound? It is important that we know and document this history and how the game has change. This is the only book that gives the names of many of the pioneers of the NBA and the teams that they played for which should never be forgotten. Which in turns is the only book that shows actually how the NBA was integrated and who were those pioneers. This history is before Bill Russell or Wilt Chamberlain but it tells when and how the game changed. This book also has accounts from other players who were drafted to the NBA but the racial overtones at the time prevented or denied them the rights to play or stay. They were released and their careers were abruptly ended.