Welcome to BasketballSlave.com
Andy was no different than any other kid growing up with a dream of playing professional sports. His love for the game, along with his natural ability, propelled him as a stand out on the high school basketball team. He was hailed by all the coaches and teachers as their school celebrity. There was just one problem. The closest people around him - his family, friends and the many admirers - were not too concerned with his education, not even Andy. All that was required during those years was for Andy to show up and display his amazing talents. Imagine not having to worry about taking or passing any of your classes in high school or college? All that was required was to play basketball. That is what happened to Andy Johnson over 60 years ago.
In 1950, Andy did not graduate from high school. He was admitted on probation to a major University to just play basketball. Once in attendance he broke all scoring records in high jump and high basketball. The school's notoriety increased when the team began beating all of the big time rivals with the help of their new star player. Everything seemed to be going great although Andy did not have to attend a single class or hand in any written work. Unfortunately, he was unaware of the harm that this would this cause him later on in life. You see, he was the first generation to go to college. With no one to guide him, this tragedy came back to hurt him in the end. What do you have to fall back on when the lights go down and you're unable to play anymore? This is one of the questions that a young student athlete must ask of him or herself.
Andy's Testimony: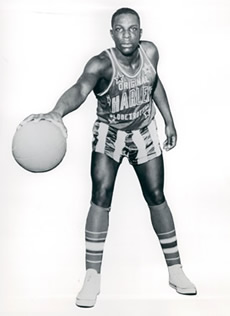 "By me not having my education and growing up in a time in which academics were not stressed at the school I attended, it put me in a situation in which I was under someone else's control and it limited my opportunity of what I could do with the rest of my life when the game of basketball was over. Basketball took me on a wonderful journey. I am the only player that played in every professional basketball league between 1950 through the 60's. I was a member of the Original Harlem Globetrotters, National Basketball Association, American Basketball League and the Eastern League. This was before all cable and news stations. It was at a time when there were only eight teams in the NBA and many of those spots were taken by the white players due to the unwritten quota system that took place during that era of sports.
Basketball has taken me all over the world and I have played before Kings and Queens and also many important dignitaries. My journey has taken me to areas in which fans had never seen the game of basketball. I have met many influential people along the way and can honestly say that it was a great experience, but I would rather have had my college degree.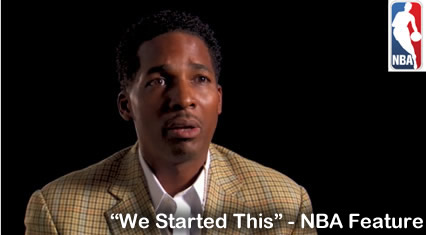 I have collaborated with my youngest son Mark to write my book "Basketball Slave: The Andy Johnson Harlem Globetrotter/NBA Story." The book was done for many reasons. One is to make it clear at the time before 1960, that the Globetrotters were more than just pranksters, they were real basketball players. Many of the black All Americans, as well as the best black players played for the Globetrotters. There was just not enough room for them in the NBA during that era. Second, is that there is not enough history about the early days of basketball and how it relates to today's game. The third, and the last, is how important it is to get an education! If you have the opportunity to go to school - go FINISH and GRADUATE. Every great player in any sport will retire one day and have to do something else. That is why you need your education. While playing, I was playing for everybody else. When learning you are doing it for yourself. Your education is for YOU!"

- Andy Johnson